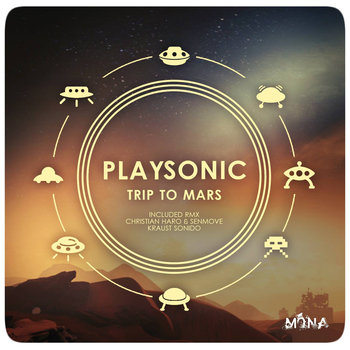 Playsonic es un artista madrileño dj y productor creador del sello GLUB RECORDS con varias producciones en el mercado como: OBERON THE CAT (album), MOON PARTY, ACID o ANA`S ROOM
Tras su etapa Londinense donde ha aprendido una gran cultura musical, su progresión es imparable.
Su House Minimal depurado y contundente le ha llevado a colaborar con gente de la talla de LES RHITMES DIGITALES, JOHN DIGWEED O TERRY LEE BROWN JR entre otros…
Le damos la bienvenida en Mona Records con un ep ,compuesto de un tema original "Trip to Mars"
y de dos remixes a cargo de 3 de los artistas
mas destacados de Mona Records, Christian Haro y Senmove se encargaran del primer Remix del tema "Close Time" y Kraust Sonido se encarga del segundo remix del tema "Juarez City".
Sin mas un ep de techno para bailar mas y mejor !
Esperamos los disfruten!
Credits:
Mona Records © 2015 Mastering by Südblock Studios.
www.monarecords.pm