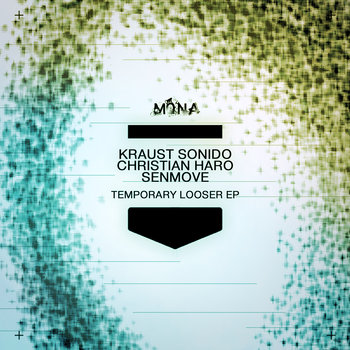 Kraust Sonido, Christian Haro y Senmove artistas estandartes de Mona Records nos sorprenden sin avisar con este Ep veraniego.
Christian Haro se cruza la península con las pistas conjuntas de Kraust Sonido en su pequeño secuenciador Roland portátil para reunirse en Málaga con Senmove y terminar este Ep con él y pasar unos días de vacaciones en Fuengirola. En Septiembre podrás disfrutar de estos temas en directo en el Showcase que Mona Records ofrecerá por los distintos Clubes Nacionales.
El disco a nuestro entender contiene un hit Temporary Looser (Reedit) un tema para todos los tiempos.
Esperamos disfruten de este buen Techno!
english
Kraust Sound , Christian Haro and Senmove banners artists in Mona Records unannounced surprise us this summer Ep.
Christian Haro crosses the peninsula joint Kraust sound tracks in their little portable Roland sequencer to meet in Malaga with Senmove and end this EP with him and spend a few days holiday in Fuengirola. In September you can enjoy these songs live in the Showcase Mona Records offered by the different national clubs .
The record we believe contains a hit Temporary Looser ( reedit ) an issue for all time.
We hope you enjoy this good Techno !
Credits:
Mona Records © 2015 Mastering by Südblock Studios.
http://www.monarecords.pm/