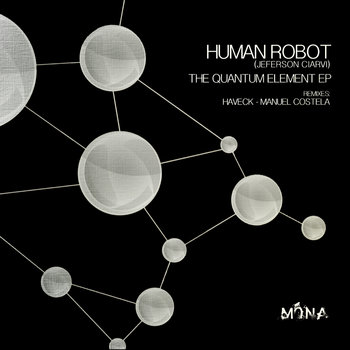 Human Robot (Jeferson Ciarvi) desde Brasil llega a Mona Records con unos cuantos remixes bajo el brazo y presentando: "The Element Quantum" un disco que explora diferentes sonidos a través del Techno, añadiendo combinaciones increíbles, elaboradas por remixers encontrados por los suburbios en las Fabelas Brasileñas!
El disco cuenta con la participación de un gran productor que está pisando de una manera brillante en Brasil y en el extranjero: Adriano Haveck y también con la participación del español Manuel Costela del sello Bucketround, que trae todo su estilo y sofisticación a esta gran obra.
Esperamos lo disfruten!
This is another release of Human Robot (Jeferson Ciarvi), "The Quantum Element", a disc that explores different sounds through techno added the incredible combinations prepared by producers remixers that give guidelines that work without losing its originality.
The disc includes the participation of a great producer who is treading a brilliant way in Brazil Adriano Haveck and also the participation of the Spanish Manuel Costela of Bucketround seal, which brings all its style and sophistication to this great work ... Thanks to the label Mona Records for believing in our work ...
We hope you enjoit!
Robô Humano (Jefferson Ciarvi) do Brasil atinge Mona Records, com alguns remixes debaixo do braço e apresenta "The Element Quantum", um álbum que explora diferentes sons por meio techno, acrescentando combinações incríveis, desenvolvido pela remixers encontrado por suburbana as favelas brasileiras!.
O álbum conta com a participação de um grande produtor que está trilhando uma maneira brilhante no Brasil e no exterior Adriano Haveck e também a participação do Manuel Costela do selo espanhol, Bucketround, que traz todo o seu estilo e sofisticação para esta grande obra ... graças ao rótulo Mona registros por acreditar em nosso trabalho ...
Esperamos Enjoit!
Credits:
Mona Records © 2016 Mastering by Südblock Studios.
http://www.monarecords.pm