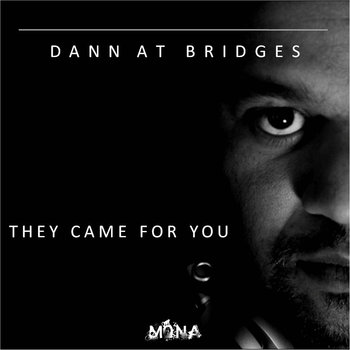 "Dann At Bridges" (1976) was born and raised in Amsterdam. He always loved electronic music. It started at a young age with the then famous series of synthesizer albums. This made him love music, from techno to deephouse. He soon began making his own music/mixes and deejayed at several occasions. In 2000 Dann moved to the south of the country, where he started deejaying again. Parkstad Events, a party organisation, immediately wanted Dann as one of their DJs for the "Techno Licious" parties. Dann has since been in a line up with some great names in the scene. Four years ago he made the decision to transfer from vinyl to CDs. Dann produces minimal techno, techhouse and progressive and has since produced a lot of tracks in these styles. He makes new productions, but knows how to maintain the old school style in his tracks. Deep inside, Dann is still an 'old school freak'. Since 2013 he and DTST started Monotoon Recordings.
The album "they came for you" is made with progressive influences, but it still remains in the underground scene. the tracks of this album have a oldschool feeling also.
the staff of Mona Records approached Dann At Bridges to release an album by Mona records which is highly appreciated by Dann.
We hope you enjoy!
Español
Dann At Bridges" (1976) nació y se crió en Amsterdam. Él siempre amó la música electrónica. Todo comenzó a una edad temprana con la entonces famosa serie de álbumes synthethyser. Esto le hizo amar la música, desde el techno al deephouse. Pronto comenzó a hacer sus propias mezclas de música / y pinchado en varias ocasiones. En 2000 Dann se trasladó a la zona sur del país, donde comenzó a pinchar de nuevo. Eventos Parkstad, una organización del partido, inmediatamente querían a Dann como uno de sus DJs para las partys "Techno Licious". Dann ha sido puesto en línea con algunos grandes nombres de la escena. Hace cuatro años que tomó la decisión de transferir del vinilo al CD. Dann produce minimal techno, techhouse y progresiva y ha producido ya una gran cantidad de pistas en estos estilos. Él hace nuevas producciones, pero sabe cómo mantener el viejo estilo de la escuela en sus pistas. En el fondo, Dann sigue siendo un 'monstruo de la vieja escuela'. Desde 2013 él y DTST comenzó Monotoon Recordings .
El álbum "vinieron por ti" se hace con influencias progresivas, pero aún permanece en la escena underground .
Las pistas de este disco tienen una sensación de la vieja escuela también.
El personal de la Mona Records Label Spain hizo puente con Dann para editar este álbum en Mona Records , sello que es altamente apreciado por Dann.
Esperamos lo disfruten!
Credits:
Mona Records © 2015 Mastering by Südblock Studios.
www.monarecords.pm